Hendrick & Henry – Atlanta, Georgia DUI Criminal Defense Lawyers
Good people sometimes make bad choices.
We understand the anguish and uncertainty a Georgia DUI charge can bring. Our legal team has helped hundreds of clients get their life back on track. We are ready to help you! Call 404-310-9795 or use our contact form here.
Trust the knowledge of two former DUI prosecutors to prepare your Atlanta, Georgia DUI defense.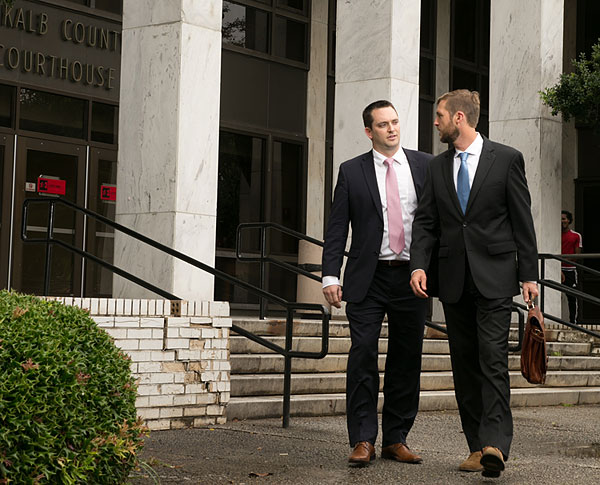 At Hendrick & Henry Law, we take the approach that each and every Georgia DUI (driving under the influence) case can be won! As a former prosecutors both Joseph and Troy have handled thousands of cases dealing with traffic, DUI, drugs, violent crimes, weapons and many others throughout their careers. For the past decade our law firm has been handling DUI cases and have gained a reputation in the community as lawyers who go the extra mile to defend their clients.
Prior to becoming managing partner of our traffic law and DUI division, Joseph K. Henry handled prosecutions of DUI cases in Gwinnett County, Georgia from 2012 to 2014, amassing a wealth of experience in the field. We offer several competitive pricing options with respect to fees for representation.
Both Joseph and Troy are certified in Standardized Field Sobriety Evaluation by the National Highway Traffic Safety Administration, and have had the same training as officers in the field.
Actions you need to take if you have been charged with DUI in Georgia.
You need a good attorney to handle your driving under the influence charges. There is simply too much at risk to handle the situation yourself. Call 404-310-9795 and we will arrange for you to have a FREE consultation regarding your DUI charges.
Use our main DUI website as we have additional information to help you understand the charges against you, the potential outcomes and how you can fight the charges and protect your rights.
We believe that in the overwhelming majority of cases, the Georgia police officer or the state of Georgia has made mistakes in the prosecution of your case that will lead to opportunities to achieve a positive outcome in your DUI case.
We work tirelessly through the use of experts, doctors, investigators, technology and the law to find areas of your case in which the state of Georgia has failed to meet its burden of proof beyond a reasonable doubt.
We approach your Georgia driving under the influence case with a "we-can-win-it" attitude, we keep our minds open to any and all possibilities to be successful in the defense of your case and in defense of your Georgia and United States Constitutional Rights. When you hire The Law Offices of Troy P. Hendrick, you have done everything in your power to achieve the best result possible.
Hiring a committed Georgia DUI lawyer is the first step toward putting your mind at rest and ensuring that you have the best chance at reducing the negative impact that these types of charges can have on your life and your future.
The best results are achieved when our firm and experts have an opportunity to get involved early and quickly in the legal process. Do not delay, call the Georgia DUI Law Firm of Troy P. Hendrick at 404-310-9795 or contact us here.
KNOW THE "TEN DAY RULE"
One of the most severe consequences of a Georgia DUI charge is the loss of your privilege to drive in Georgia for up to one year. People have to make a living, and to make a living, we all have to drive. Saving your license can be the single-most important benefit of contacting an attorney immediately upon being charged.
The "Ten Day Rule" refers to certain requests that must be made within ten days of a DUI arrest in order to maximize your chances of being able to drive. Begin your search for an attorney immediately upon being charged. Make sure you give him or her ample time to file the necessary paperwork with the Department of Drivers' Services to ensure the maximum opportunity to save your privilege to drive and make a living.